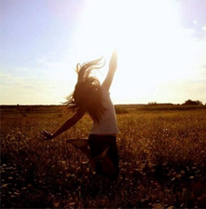 SHAME'S OPPOSITE
A child of four runs around the house, flying a towel above his naked body like a sail, shouting "I'm MEEEE!" Arms flung wide, he knows no shame…and why should he? In his home, there is the safety and love of adoring parents. What should we call what he is experiencing? Pride? Certainly a great deal of self satisfaction, an expectation that he will be acknowledged, seen as special.
Arrogance does not come to mind, and yet my clients shy from shame's opposite for fear of being seen as, or even becoming, "too full" of themselves. For me, arrogance seems to smack of "I'm better than others," it's laced with disdain, it serves to separate. There is a country mile between the desire to be acknowledged, which easily can accompany the desire to acknowledge others, and the expectation that you are the only noteworthy one in the room.
We have an uneasy relationship in general with the great yawp, the bold expression of a desire to be noticed and appreciated. Often, we are only comfortable with it in youths: recall, if you will, one such character, played by Leo DiCaprio, in the film Titanic, proclaiming "I'm king of the world!" on the bow of the doomed ship. Inspiring! Now the director, a middle-aged James Cameron, states the same phrase as he accepts his Oscar for that film. Bomb!
Yet to feel honestly good about your self is not only healthful for the psyche, it's beneficial for the body. Shame deflates; simple pride expands. Shame averts its eyes, hides its face; pride sees and desires to be seen. In shame, our shoulders slump, our chest collapses, our tail literally tucks; when we feel good about ourselves, our heart opens, we lead with a strong chest and a firm step. One shrinks from life; the other takes its place in the world, engages…and in its truest form incites the same in others. More than all the positive affirmations and other mind games to override shame, engaging our bodies to allow the position of pride, of self satisfaction, can have a profoundly healing effect.
Try this. First, allow your body to contract in a shame posture. Then notice your breath, and observe your mood over time. Now, reverse. Puff out…that's it. Uncomfortable, particularly to those of us used to shame, to fear of arrogance. For the purposes of this experiment, try it anyway. Notice the head-up, shoulders-back, chest-out position, and what it does for your breath, and over time to your mood. Perhaps you feel better; perhaps, the resistance to this does not go away. For the latter, do not judge yourselves. You have been taught to carry shame, and all this proves is that it is not just in your head, but in your body. And it can be healed.
Marianne Williamson comes to mind: "Our deepest fear is not that we are inadequate. Our deepest fear is that we are powerful beyond measure. It is our light, not our darkness that most frightens us. We ask ourselves, 'Who am I to be brilliant, gorgeous, talented, fabulous?' Actually, who are you not to be? You are a child of God. Your playing small does not serve the world. There is nothing enlightened about shrinking so that other people won't feel insecure around you. We are all meant to shine, as children do. We were born to make manifest the glory of God that is within us. It's not just in some of us; it's in everyone. And as we let our own light shine, we unconsciously give other people permission to do the same. As we are liberated from our own fear, our presence automatically liberates others." Whether or not you believe in God makes no difference here, substitute "Life" if that is more comfortable for you.
And imagine a world where we all dance in celebration of each other and our selves. Shamelessly.
Comments
4/23/2013
You made certain nice points there. I did a search on the matter and found most people will agree with your blog. –
---
4/30/2013
Superb, what a weblog it is! This blog gives valuable information to us, keep it up.