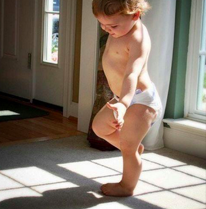 A child of four runs around the house, flying a towel above his naked body like a sail, shouting "I'm MEEEE!" Arms flung wide, he knows no shame…and why should he? In his home, there is the safety and love of adoring parents. What should we call what he is experiencing?
Arrogance does not come to mind, and yet my clients shy from shame's opposite for fear of being seen as, or even becoming, "too full" of themselves. There is a country mile between the desire to be acknowledged, which easily can accompany the desire to acknowledge others, and the expectation that you are the only noteworthy one in the room.
We have an uneasy relationship in general with the great yawp, the bold expression of a desire to be noticed and appreciated. Often, we are only comfortable with it in youths.
Yet to feel honestly good about your self is not only healthful for the psyche, it's beneficial for the body. Shame deflates; simple pride expands.
Marianne Williamson comes to mind: "Our deepest fear is not that we are inadequate. Our deepest fear is that we are powerful beyond measure. It is our light, not our darkness that most frightens us. We ask ourselves, 'Who am I to be brilliant, gorgeous, talented, fabulous?'
And as we let our own light shine, we unconsciously give other people permission to do the same. As we are liberated from our own fear, our presence automatically liberates others."
Read the full article from Inga Larson, here.